(October 2020- Montréal, Canada) Now more than ever, the importance of keeping high-touch surfaces free from contaminates is a priority in both residential and commercial settings. In response, Arborite is pleased to make Antimicrobial Protection available across all patterns* in three popular laminate product types: AM3 (vertical grade), AM4 (postforming grade) and AM5 (general purpose grade).     
Arborite's Antimicrobial Protection includes a silver ion antimicrobial agent that is registered with the EPA and does not include nano silver particles. It inhibits the growth of stain and odor-causing bacteria, mold and mildew on the surface of its laminate.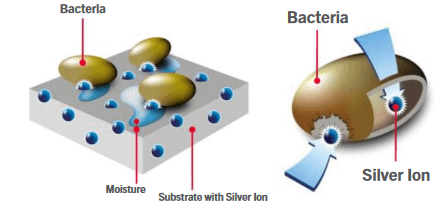 This specific type of silver-ion technology is built into the laminate- which means the antimicrobial benefits won't wash away and will be on the job 24/7. Used in combination with proper cleaning and disinfecting, silver-ion technology keeps surfaces cleaner. 
Here's how it works. Silver-ions use moisture to attack microbes and destroy their cell membranes. This destabilizes the vital functions of the cells and effectively inhibits replication on the surface of the laminate.
Arborite's Antimicrobial Protection is a factory-order option with a 21-day lead time and minimum order quantity.  The added silver-ion technology does not change the look of the laminate design, ensuring Arborite with Antimicrobial Protection is an attractive and responsible specification for countertops, tables, casegoods and wall/door elements in residential, office, education, healthcare, hospitality and retail projects.       
For additional data on the efficacy of Arborite's Antimicrobial Protection or technical product information, please contact your representative or visit www.arborite.com

* Available on all patterns, woodgrains, solids, Panorama and Ink collection with exception of the following patterns: P3000, P3001, P3002, P3003, P3004, P3005, P3006, 1403 (without overlay)
--------------
About Arborite
Established in Canada in 1948, Arborite® is synonymous with quality high-pressure laminate. Specializing in European-inspired designs, Arborite offers over 250 innovative patterns and woodgrain looks in a wide range of finishes.  We provide interior designers and architects with surfacing solutions for both commercial and residential projects.  Our laminates are designed in Montréal, manufactured in the US and readily available through our North American distribution network.
Arborite laminates are GREENGUARD Indoor Air Quality Certified and FSC certified.
# # #
Media Contact