We Are Arborite
Since 1942, Arborite has been bringing surfaces to life. With a solid reputation for quality and reliability, Arborite has become synonymous with high-pressure laminate. An industry pioneer in high pressure laminates, Arborite has grown to become one of the world's most innovative HPL manufacturers and distributors. Here's how we got here today:
1945
Arborite, the first commercial decorative melamine laminate,is pressed in Canada.
1942
After years of research, Howard Smith Paper Mills Ltd. first announces the development of a brand new decorative product using pulp resin.
1962
Arborite, the first commercial decorative melamine laminate,is pressed in Canada.
1948
The Arborite Company Ltd. is incorporated as a wholly owned subsidiary of Howard Smith Paper Mills Ltd. A new Arborite manufacturing facility is officially opened in Lasalle, Quebec.
1953
Arborite licenses its process to Polyrey, a French plastic laminate manufacturer and division of Aussedat Ray.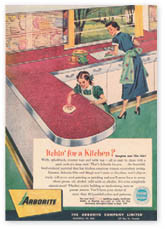 1963
Arborite becomes a division of Domtar Construction materials after the purchase of Howard Smith Paper Mills Ltd. by Domtar Inc.
1971
A second North American plant opens in Vaughn, Ontario.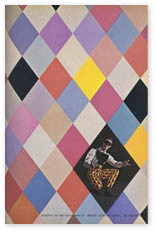 1976
Production begins at a new Domtar plant in Huntsville, Ontario. Capitalizing on new thermally fused decorative panel technology, the plant produces panels sold under the Cladboard® brand name.
1972
The U.K. plant is sold to focus on the North American market.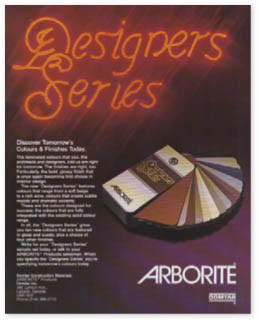 1988
On December 31st, Forbo International, a Swiss company with a high-pressure laminate manufacturer of its own, Resopal Gmbh, acquires Domtar Construction Materials' Arborite division.
1985
Domtar purchases the assets of Excelite in Norcross, Georgia and folds the company into its Arborite division.
1997
Forbo's high-pressure laminate divisions are acquired by Premark International in the U.S.
2012
ITW's Decorative Surfaces business becomes a new, independant company operating as Wilsonart International Holdings LLC and jointly owned by funds managed by Clayton, Dubilier & Rice (CD&R) and ITW.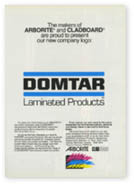 1999
Premark International merges with ITW (Illinois Tool Works, Inc.), taking on the ITW name.