The Small Armored One—A Legend Improved
In Enderby, British Columbia, Mike and Jason Jong are reimagining a legend in the world of travel campers with the Armadillo Trailer. Born into a family of outdoor enthusiasts, the brothers have worked by their father's side manufacturing, repairing and renovating RVs their entire lives.
"We've always had a love for the classic, rounded, small trailers like early Airstream, Boler, Lil' Bigfoot and Trillium models," said Mike Jong, who owns Armadillo Trailer Manufacturing with his brother. "But times have changed since they were first manufactured. Technology, finishes, appliances and other components have all improved significantly. And we have our own ideas."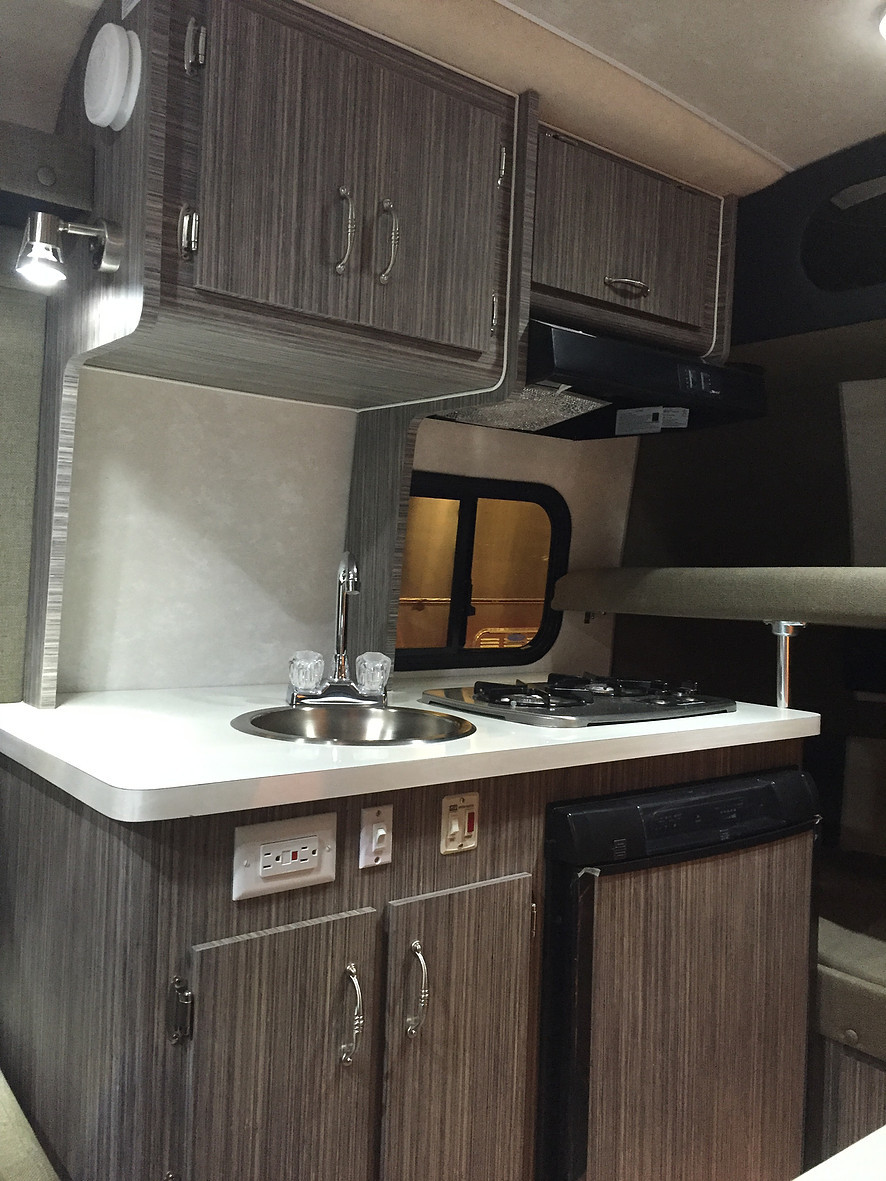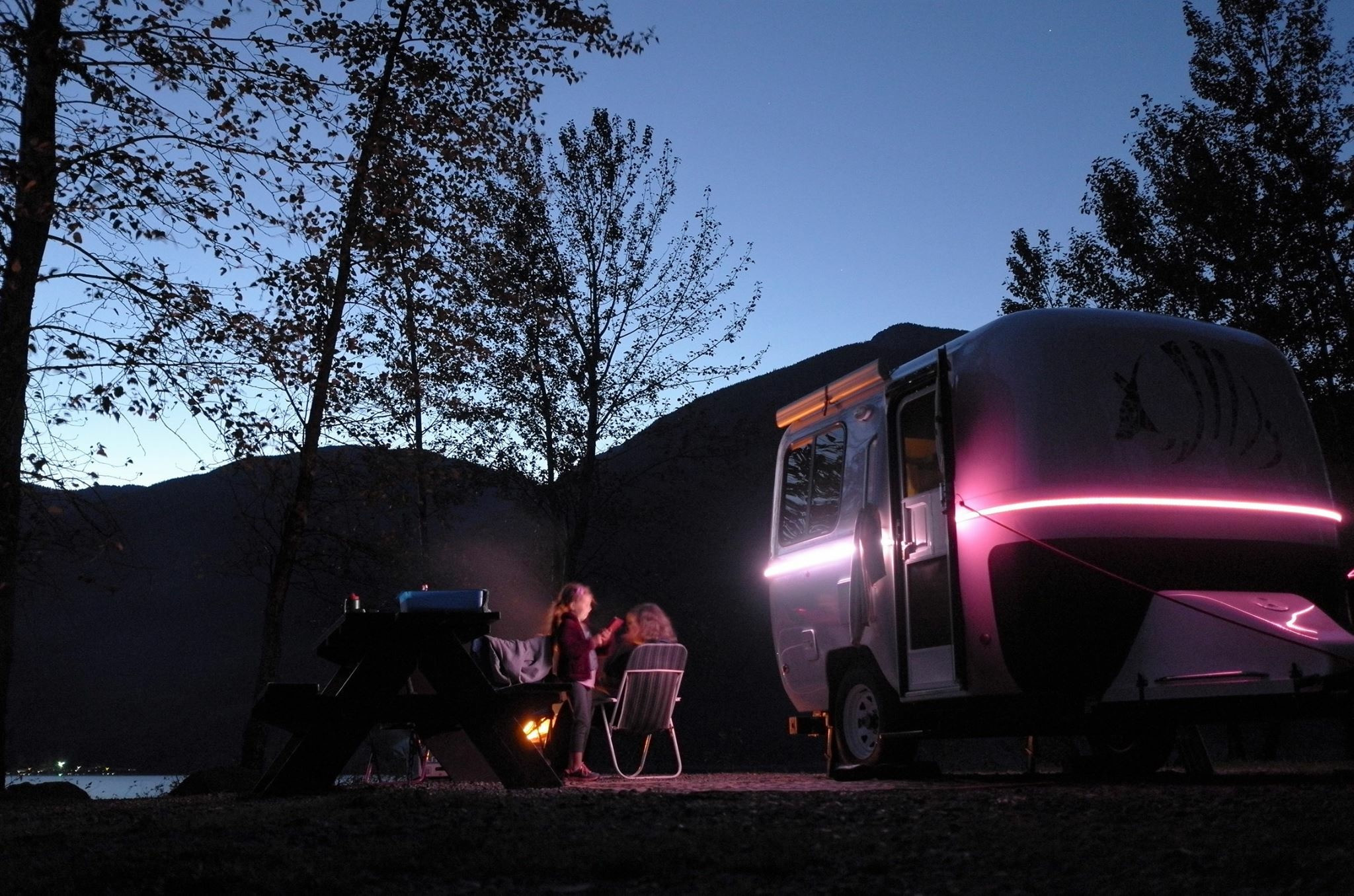 Sometimes affectionately referred to as "fiberglass eggs", this style of camper-trailer is constructed by fitting two 13 ½ foot, oblong, fiberglass shells together. The units enjoy a cult-like following in part because they are compact and lightweight. Easy to tow. Easy to park. Easy to get away from it all. Enthusiasts across North America gather at large rallies to share potluck meals and show off clever customizations.
One of the most popular fiberglass egg models is the iconic Boler trailer, produced between 1968-1988. Many of the roughly 10,000 units made are still in circulation- but repairing the typical delamination issues associated with the vintage trailers requires time, money and expertise. "People buy these classic eggs and fix them up," said Mike Jong, "but a lot of people who love the little units don't want to do the renovation."
Recently the Jong brothers acquired the fiberglass molds for the original Boler campers- and they knew they had an opportunity to make something special by combining the beloved shape with modern innovations. The resulting Armadillo Trailers are improved and personalized, offering functional options like solar panels, and aesthetic options like cabinets built from the customer's favorite Arborite high-pressure laminate designs.
Built to Last
"Starting from frame up, we've built a quality unit. The original molds have been retooled, and we addressed all the things that over the years have proven not to work. They are really beautiful," said Jong. "We build them so they'll be around for a long time. Just touching the Armadillo Trailer, you can feel the difference in quality."
The Armadillo's frame is sturdier than its predecessor's. An integrated drawer adds precious exterior storage space underneath the small unit. Windows and doors have been modified and materials updated to prevent leaking. The Jongs also added an LED belt light around the outside, giving the classic profile a fun, fresh look.
Interior finishes are upgraded as well. "Inside other RV's you usually have 1/8- inch lauan paneling with a photo finish or a thin film. If you scratch those surfaces, you'll always see that damage", said Jong. "In the Armadillo we use Arborite HPL for all the cabinetry faces, louvers, countertops and tables, too. It's tough as nails. Arborite is a well-known brand that's been around for a long time, and it's not going anywhere. We find people really like a durable finish that won't wear or break down in the weather. The way we do it with Arborite, the interior will look good 30, 40 years down the road."
Between the fiberglass shell and interior walls, high-density expanded polystyrene insulation works as a vapor retardant, further addressing the moisture issues leading to delamination in the older models. It also adds to the Armadillo's energy-efficiency, making for cozy camping year-round.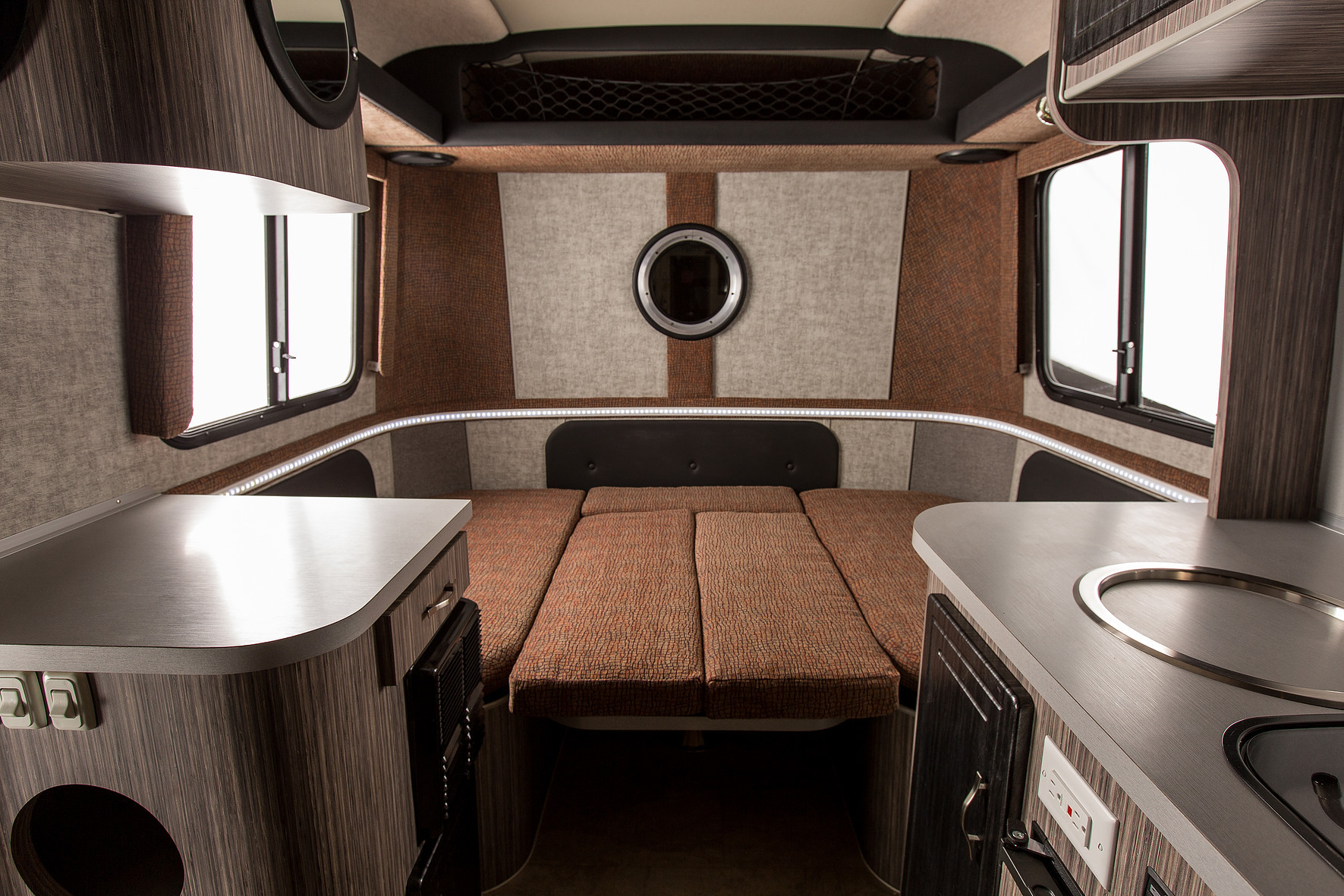 Built for You
Every Armadillo trailer is built to order. Three standard camper packages range from minimalist to fancy. Of course, people have different definitions of "essentials", so Armadillo offers a long list of à la carte amenities for customers to further personalize their units. And with over 45 years of combined experience building and renovating RV's, the Jongs are happy to fulfill any custom request.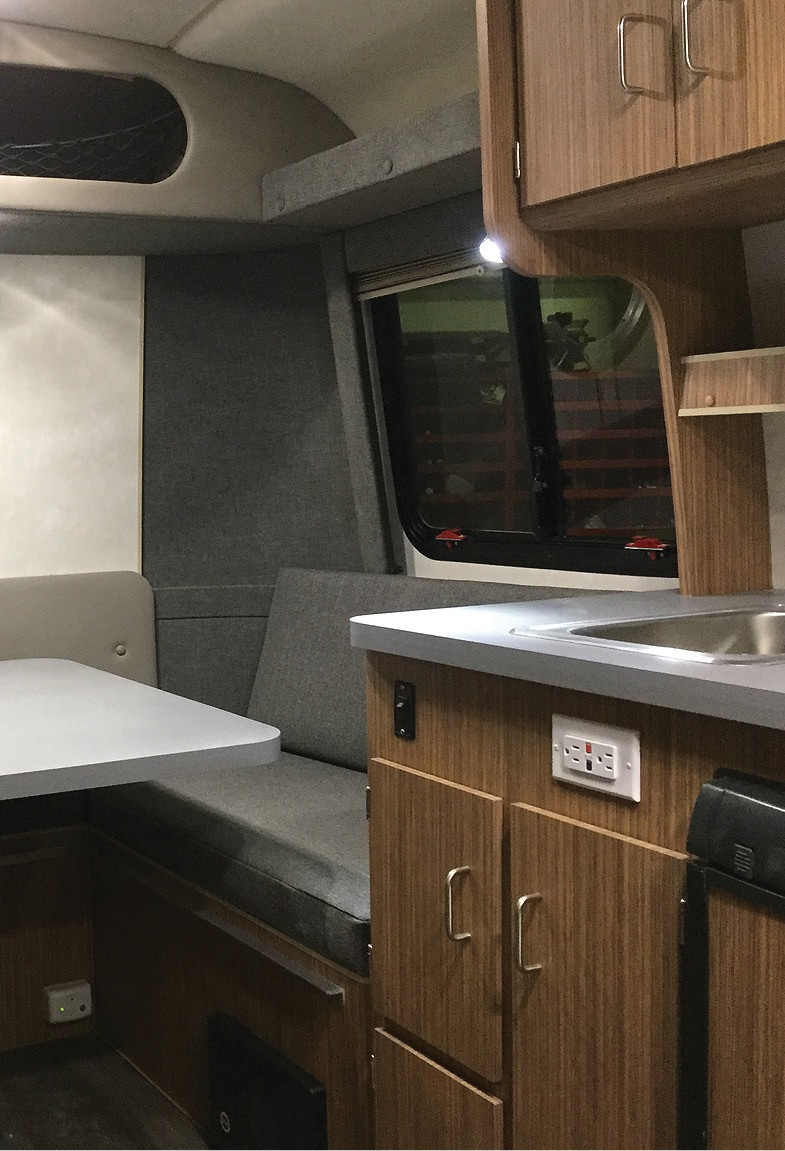 "Each Armadillo is a little different. With the Arborite we offer a unique thing where people can actually pick the interior they want from the entire HPL collection. That changes the whole look of the unit. It is something no one else in the industry is doing," said Jong.
"Because we manufacture just in time, and every order is special, we don't keep our HPL materials in stock. Arborite lets us order exactly what we need. Their customer service and distribution network help us offer campers that are like a signature series."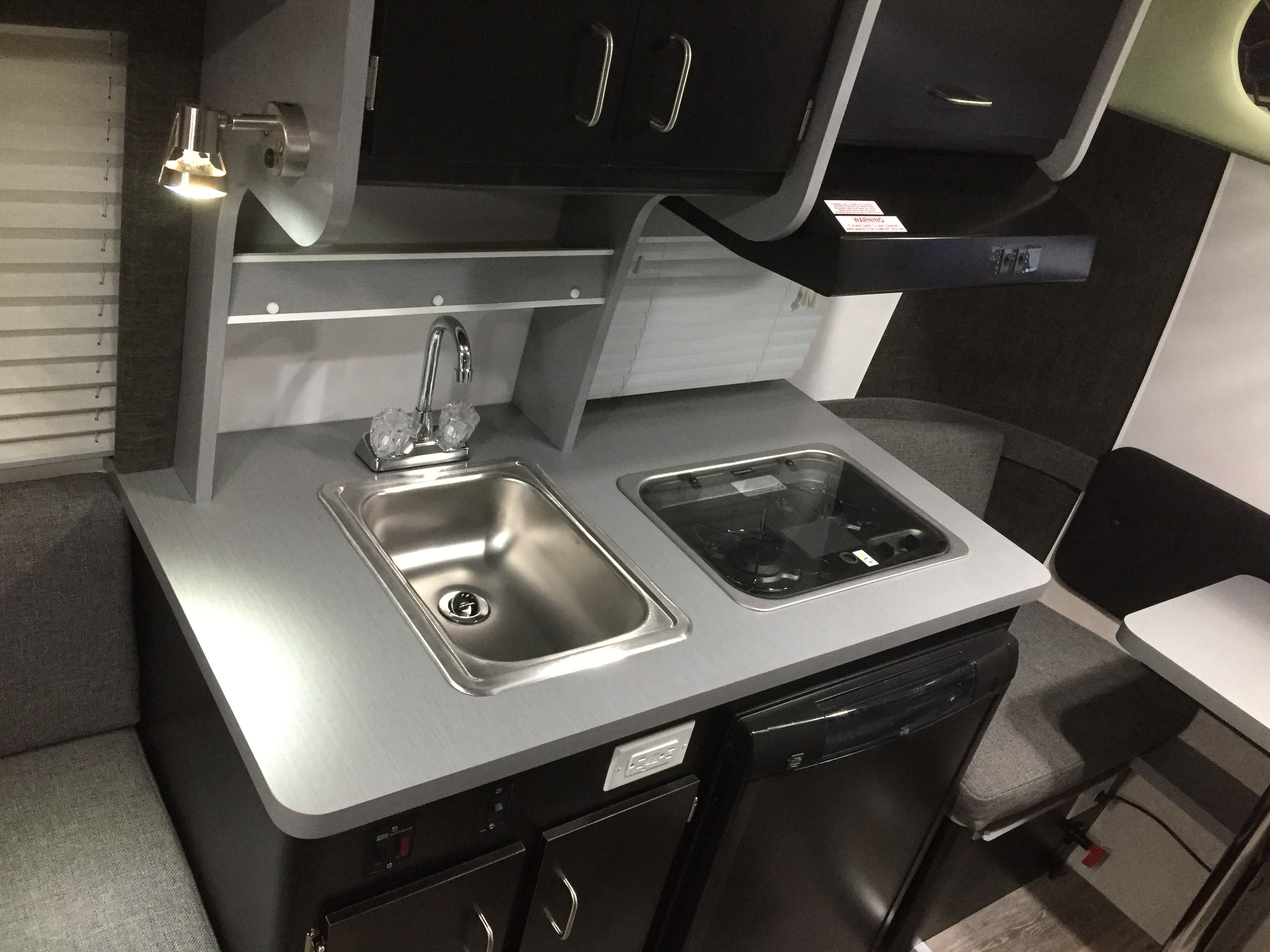 Armadillo Trailers hits a sweet spot for camping enthusiasts of all ages. They retain the nostalgia of a simpler time while offering the quality and customization modern people are accustomed to. They resonate with Millennials who appreciate craftsmanship and value experiences over things- while simultaneously expecting technology. And they are built to last generations. "Our family loves being outdoors. Camping is a great way to get into nature and connect with people in real life," said Jong. "With the Armadillo, we just want to build a quality camper that will stand the test of time."