Design Defines Our Lifestyle
"Your space has a voice, a personality, a soul, a perceived value..."
— Ruscio Studio guiding principles
Since 2002 Ruscio Studio, an award-winning interior design firm located in Montreal, has served both the local and international communities. Although Ruscio Studio specializes in commercial and retail design, the firm's ethos leads it to occasionally delve into intriguing residential projects. The recent renovation of a 19th century three-story-plex, in the historic St-Henri neighborhood of Montreal, is one of those special projects—a microcosm of contemporary design that pays homage to the cultural context of its roots. "While we held on to certain original features and restored others, we also felt that a sharp contrast between the old and the new would be an ideal balance," said Robert Ruscio, president of Ruscio Studio. Marrying reclaimed and modern engineered materials within the project reconciles the past and the present.
St-Henri is an up-and-coming neighborhood. Located in the South-West borough and bordered by the Lachine Canal, it is undergoing gentrification. Originally an industrial area inhabited by Francophone and Irish immigrants who worked the factories along the Lachine Canal during the 19th and 20th centuries, the neighborhood itself is an architecturally fascinating historic record.
One building type, the iconic three-plex with a twisty exterior staircase, is prevalent in Montreal's landscape.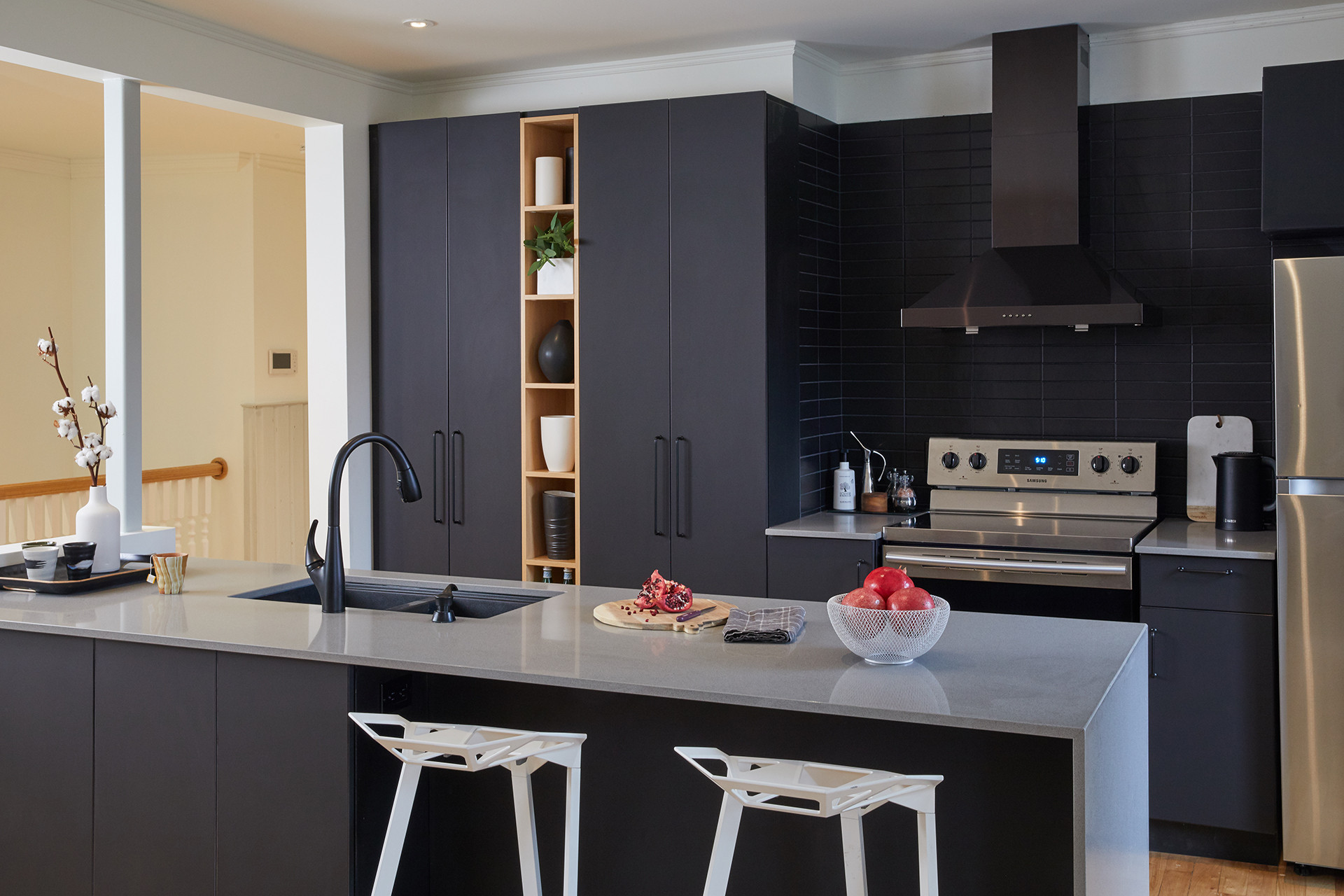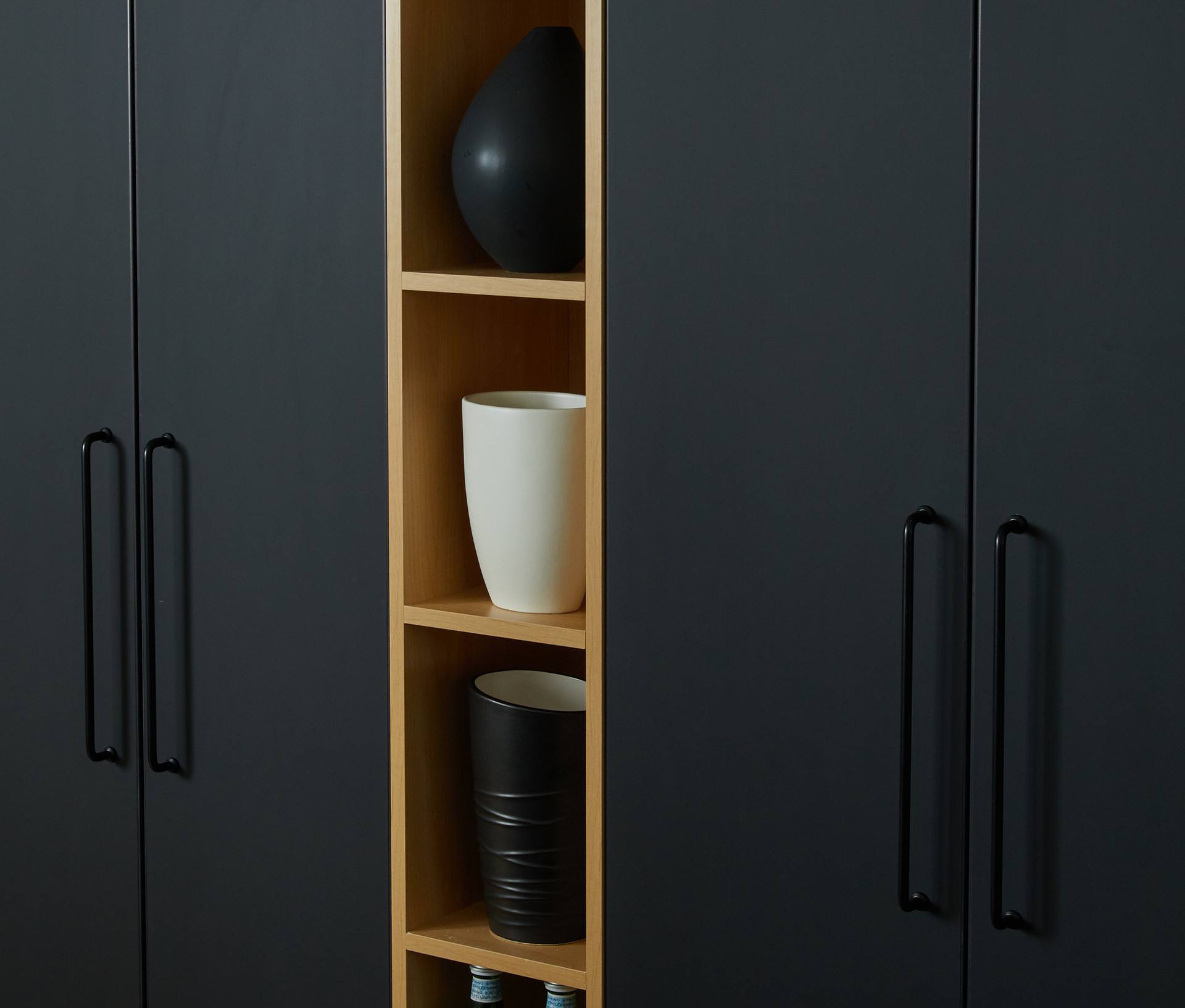 The property Ruscio's team renovated was built in 1872, presenting a somewhat unique set of design challenges. Although the flats were originally designed in L-shapes to maximize access to natural light, lifestyle expectations have changed significantly. "Design trends have always been highly influenced by economic trends. We look for patterns in what we see, in shape, style and era," said Ruscio. "Right now, I believe the inclination for more conservative, traditional, and nostalgic tendencies will be on the rise, yet people expect that sensibility to be delivered in a way that is elegant and reflects contemporary urban living."
A major renovation of the kitchen provided a much-needed update to the entire space. "The original kitchen was demolished, and the new one located in a more lofty space which combined two rooms as one," said Ruscio. The wood strip floor was refurbished, setting the stage for a modern, sleek kitchen. Arborite's new fingerprint-resistant Pure laminate, in Black Satin V7003, was used for the cabinetry. The specification creates a beautiful juxtaposition between heritage and modern materials that is both authentic and relevant.
"Black is undeniably modern, yet timeless, while low sheen finishes are also emerging as current choices," said Ruscio. "I distinctly remember when I inquired about Arborite's Black Satin, our rep said, 'Here is the specification, but you need to feel it, not just see it!' Indeed, this new plastic laminate finish has a uniquely leathery and suede feel to the touch. But what is even more unique is that fingerprints don't appear on the surface. And that is a common comment from clients, noticeable fingerprint marks on dark laminates. In a kitchen, this issue becomes even more critical."
In the 19th century, the area where the three-plex is located was called Les Tanneries because a good amount of leather tanning took place there. Within the specification of modern materials, there is a subtle nod to that history. Yet there is also the innovative feel of Ruscio Studio's award-winning commercial design expertise. By bringing together experimental concepts in engaging ways, each Ruscio Studio project is grounded in the relatable, while challenging clients to expect the unexpected.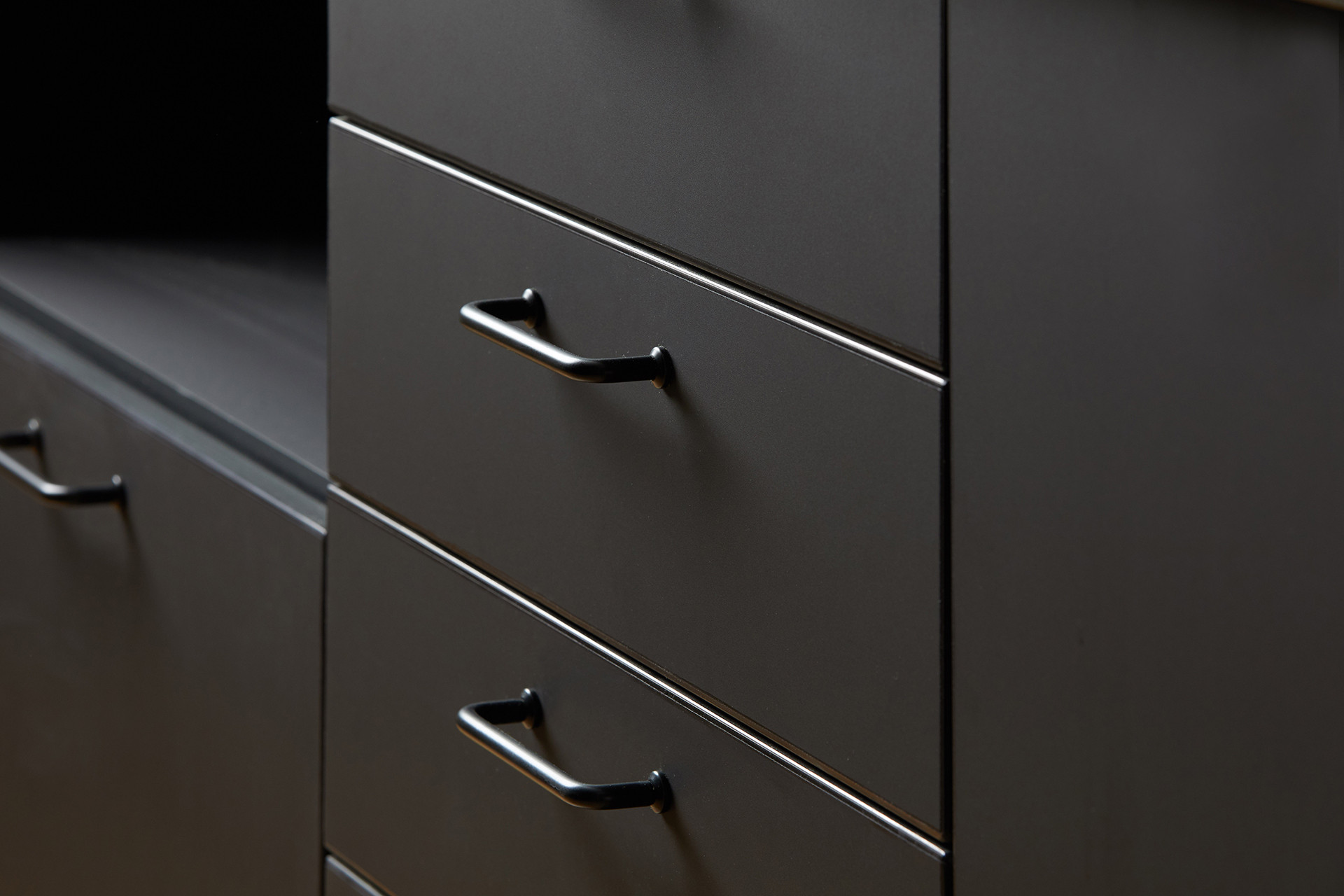 "Arborite's new fingerprint-resistant laminate was used for the cabinetry— a beautiful juxtaposition between heritage and modern materials that is both authentic and relevant."
— Ruscio Studio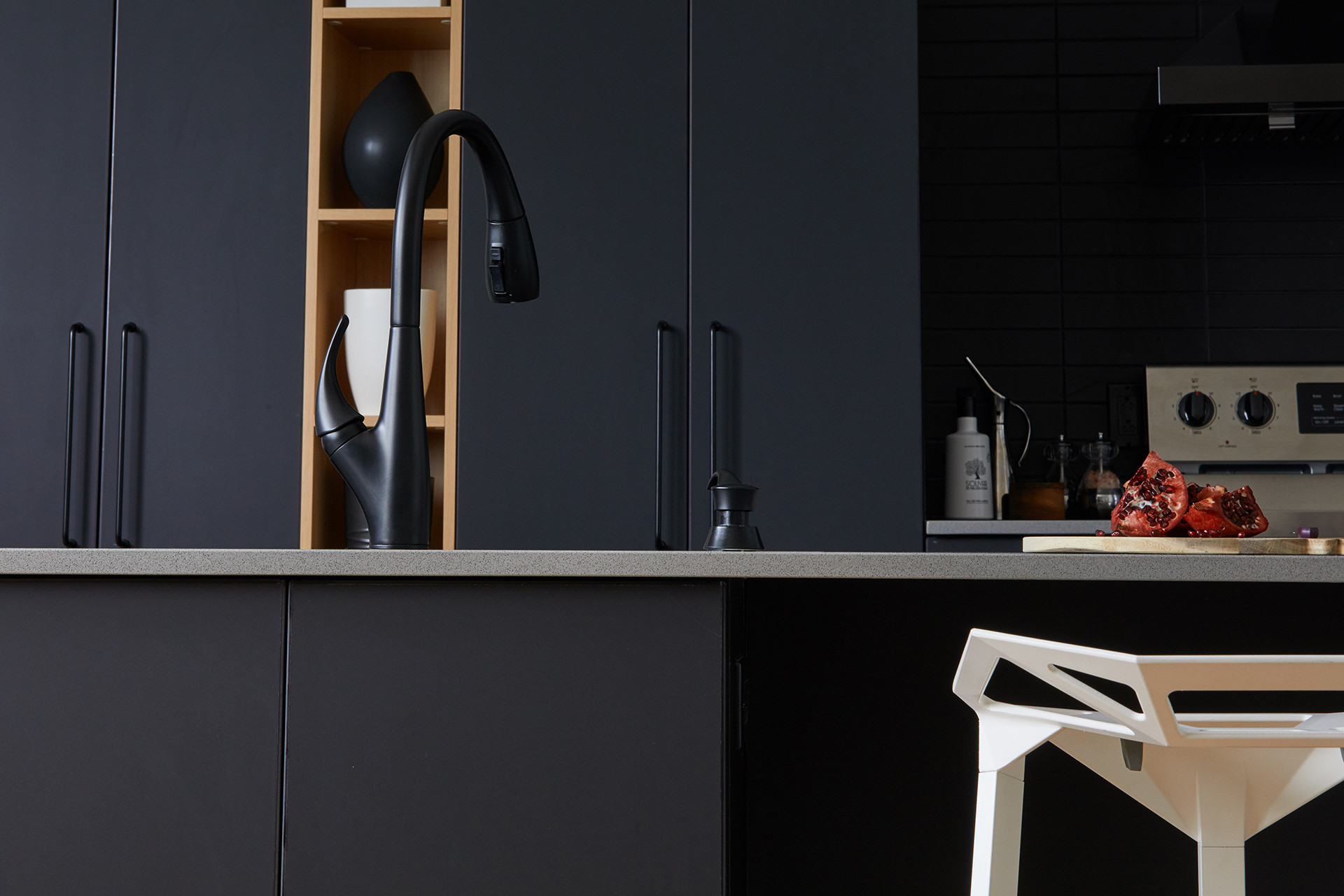 ---

Keeping your surfaces streak free has never been easier with Arborite's Pure collection. With a luxurious, velvety texture, Pure features fingerprint resistant technology to ensure that your high-traffic areas are free of fingerprints and smudges. As with all Arborite products. Pure is easy to clean, heat resistant and durable.