Caring for Caregivers
The expansion of the Brunswick Medical Centre (BMC) in Point-Claire, Québec, was designed to provide the patients and the staff an enhanced healthcare experience. Originally, the clinic housed approximately 5000 m2 of its medical and administrative services in separate buildings due to lack of space. ékm architecture + aménagement Montréal, was awarded the project, which included a new four-story structure adding 6000 m2 of space and bringing all medical and administrative services together under one roof. Special attention was given to the second floor, which houses amenities to improve the work environment for staff.
"The Client, Mr. Vince Trevisonno, CEO of BMC, asked us to develop a common staff area where the employees could eat, relax or train during their breaks," said Sarmad Al-Mashta, Director of lab ékm and one of the Architects who worked on the Brunswick Medical Centre project. "At the same time, the common area would serve as an attraction, encouraging potential employees to join BMC."
The program included a staff lounge, a small gym, a personnel office, and a locker room, with the staff lounge being the highlight . The intention was to make employees feel as if they are in a completely different environment while in the staff lounge. Principles of evidence-based design were used to imagine the space, which deviated completely from the corporate materials and colors used within the medical clinics, as an oasis.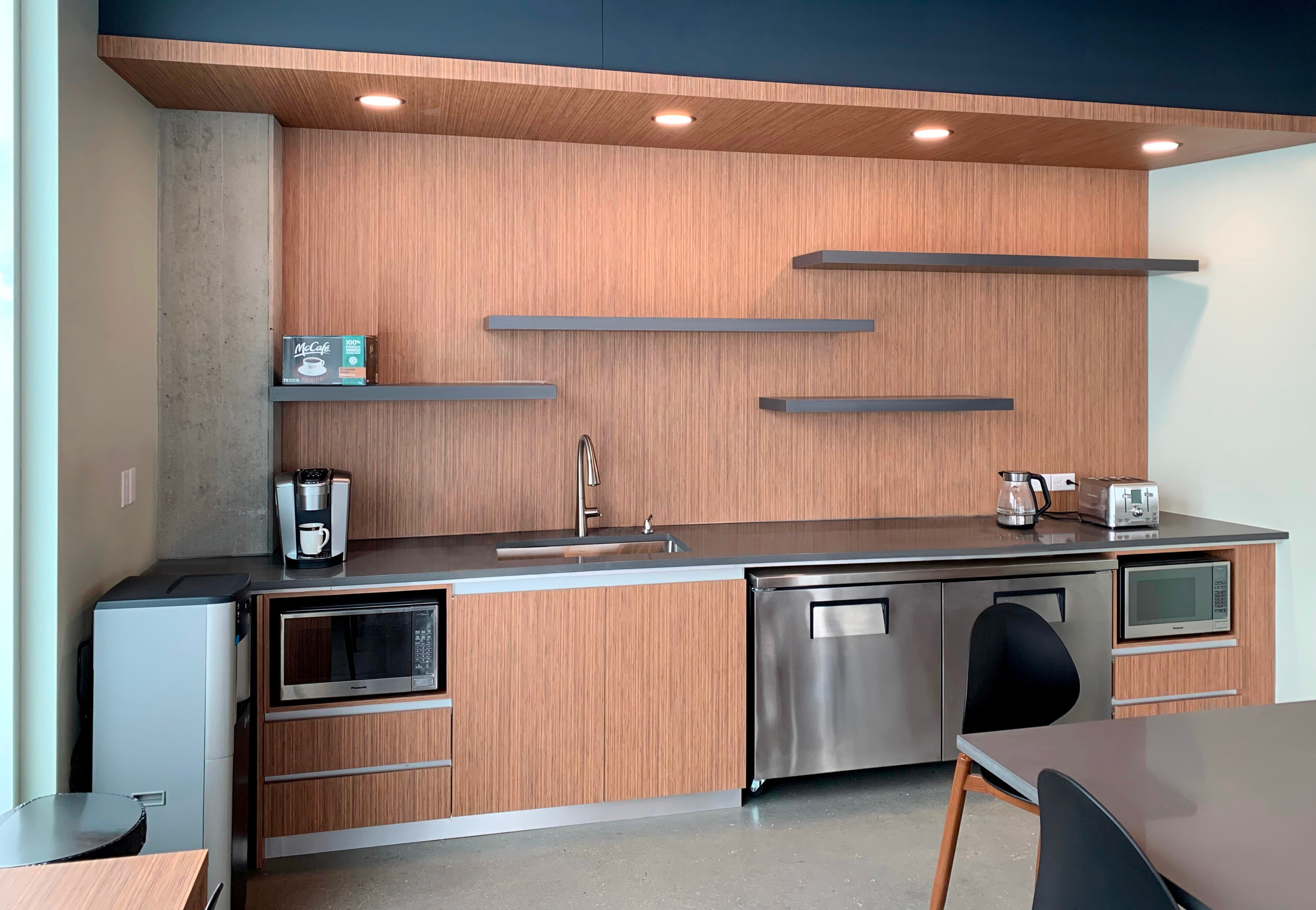 W433, Brown Sugar Cane - Photo credit: ékm architecture
"With Andy Kozina (Architect-partner) and Franca Totera (Project Architect), we sought to create a friendly 'wellness'-focused environment by using modern materials in a stylish manner, with the goal of making the users feel like they are in a relaxed and trendy space. This translated into the key elements of the design: a strong connection to the outdoors, colors and patterns that evoke nature, non-rectangular spaces and forms, casual seating options and exposed ceilings," said Al-Mashta. "Arborite's high pressure laminate in Brown Sugar Cane (W433), with its warm brown tones and woodgrain pattern, provided us with the solution for our design intentions."
The interior shift into the staff lounge begins by passing through a non-rectilinear, L-shaped corridor to arrive at a "portal" clad in Arborite high pressure laminate. Located on the south-east side of the building, the staff lounge takes advantage of two exterior walls with tall windows to maximize contact with nature. Light green walls, sunlight and generous outdoor views combine with cabinets and tabletops built from Arborite's Brown Sugar Cane (W433) laminate to evoke feelings of being in nature.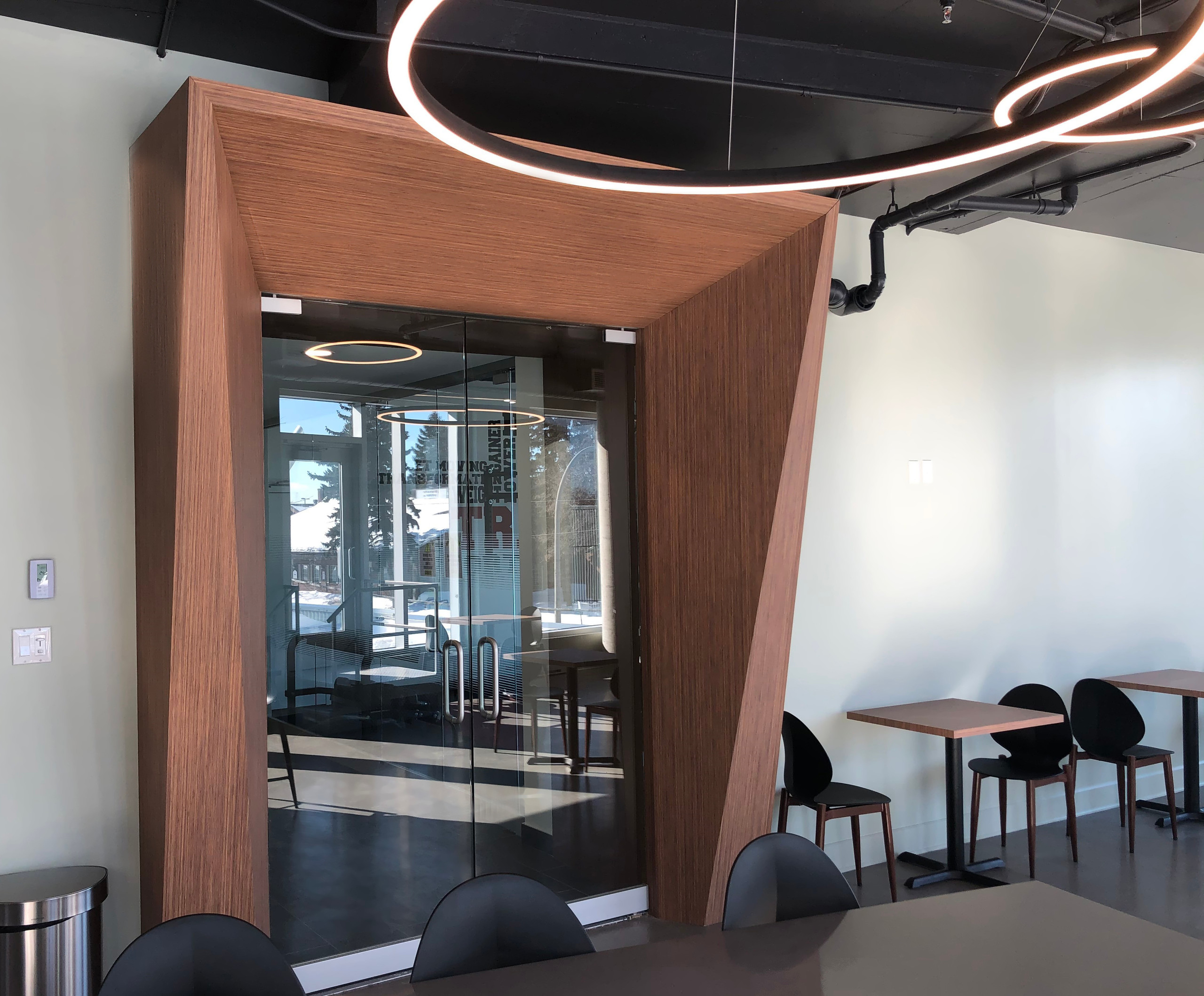 W433, Brown Sugar Cane - Photo credit: ékm architecture
"Franca Totera's design approach included using natural-looking materials in a modern way to create a sense of well-being for the building's occupants. Yet in commercial projects, we take maintenance requirements and conformity to various performance standards into consideration when selecting materials," said Al-Mashta. "Organic materials, like wood, can provide a connection to the outdoors that we all need, but they are too delicate for high-traffic applications. Arborite provides many advantages over natural wood, including but not limited to; durability, ease of maintenance, and post-forming capabilities that help achieve a creative result without exceeding the budget. With Arborite, one can add low chemical emissions and Greenguard Certification to that list
The addition of a thoughtfully planned staff lounge in the expansion of the Brunswick Medical Centre is an example of an increasingly popular corporate design trend - creating spaces that help promote a sense of wellness for staff. Not only does it bring out the best in healthcare providers, it is a way that business owners can express gratitude to their employees.
ékm architecture + aménagement