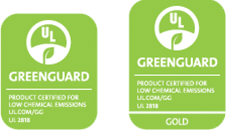 Arborite gets Greenguard certification
Good for Arborite.
Arborite is a proud recipient of the respected Greenguard Indoor Air Quality Certification from The Greenguard Environmental Institute.
Good for the environment.
By passing the Institute's stringent chemical emission tests and conforming to strict standards, Arborite's Greenguard certification assures professionals and homeowners alike that Arborite laminate will not add harmful contaminants to their indoor air.
Good for building.
Arborite's Greenguard-certified low-emission surfacing makes for a healthier environment: commercial, residential, hospitality or healthcare. Products certified by the GEI help to significantly reduce indoor air pollution.
Good for furniture.
Arborite laminate can be used as a surface on Greenguard-certified office furniture to obtain a LEED-CI credit for Low Emitting Office Furniture (Leadership in Energy and Environmental Design Rating System for Commercial Interiors). What's more, no additional costs or special ordering is required to benefit from our green-friendly laminate.
Good for everyone.
The Greenguard Certification Program promotes clean indoor air by providing an online guide to scientifically tested low emission products. That's good for building and design professionals and of course, good for consumers. Because offering products that help improve public health and quality of life, care, and maintenance is for the good of all.
About the Greenguard Environmental Institute
The Greenguard Environmental Institute (GEI) is an independent, non-profit organization that oversees the Greenguard Certification Program. As an ANSI Accredited Standards Developer, the GEI establishes acceptable standards for indoor products and testing protocols. The Institute's goal is to improve public health and quality of life by helping manufacturers build better and safer products. The Greenguard Certification Program is the only industry independent certification program for low-emitting products. Access to the Greenguard Product Guide™ at www.greenguard.org, is provided at no charge.